Dr. Yolanda Bruce Brooks is a clinically trained, entrepreneurial psychologist with a National Health Service in Psychology certification and a degree in Occupational Therapy (specialty neurological disorders). She is the founder and principal of Sports Life Transitions® Programs.
Dr. Brooks has extensive experience in designing, implementing and managing healthy lifestyle and transitioning programs as well as treating adjustment to disabling conditions through such platforms as employee and family assistance programs in various industries.

Her extensive experience working with individuals performing in high profile and high stress situations includes her former roles as a Senior Director of Player Development for the National Basketball Association as well as her role in the National Football League. At the NBA she was responsible for providing day-to-day support to the league's team-level player programs and initiatives; she also operated as an intervention specialist for critical issues and incidents. For the NFL, she was involved in the assessment, development and implementation of a nationally recognized model program for the world-famous Dallas Cowboys football team. She served as Director of this program for over seven years. During this period, she was involved with the NFL's league office in developing and guiding programs and services implemented at the team level. In 2020, Dr. Brooks returned to the Cowboys as Team Clinician, to install the NFL mandated TOTAL WELLNESS program. She continues her work as a clinical and sports psychologist for coaches, players and their families, developing and implementing life management programs for their unique needs.
Dr. Brooks delivers a TEDx talk (click for video)

Dr. Brooks has a lengthy history as a professional development and clinical consultant to corporate and sports executives, professional and amateur athletes, the military, their families and numerous organizations. In addition to her clinical and consulting roles, she has served in the capacity of adjunct professor (sport psychology), personal coach and transition specialist. She has extensive experience in designing and implementing programs that address workplace and lifestyle issues while educating, training and guiding individuals toward healthier attitudes and goal-directed behaviors. For over 20 years, her well-known Sports Life Transitions® Program – a lifestyle management and transitioning program - has addressed the needs of athletes transitioning into retirement. In recent years, she has expanded her programming to include mental health education and wellness seminars for youth sports parents, student athletes in middle school through college and wellness focused individuals..
Dr. Brooks passionately professes the importance and value of establishing healthy balance and boundaries in the intersection where life meets sports to all who are motivated listeners. She has worked with athletes from pee-wee to the pros and with sports organizations from the locker room to the league level. Along the way, she has worked with coaches, parents, medical staff, general managers, owners and commissioners and their families. As a former athlete, she can relate to many of the challenges experienced by athletes and consequently offers a very unique sports perspective.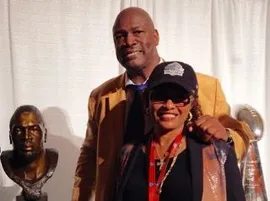 Dr. Brooks with Hall of Famer Charles Haley
at his induction.


During training camp (Dallas Cowboys) Dr. Brooks observes practice (courtesy of James Smith)

As an author and expert in transitioning, family/workplace/lifestyle issues, and treating adjustment to disabling conditions, Dr. Brooks' engaging and energetic style combined with her innovative approach to educating, training and motivating a diverse clientele has made her a frequently requested speaker and media resource.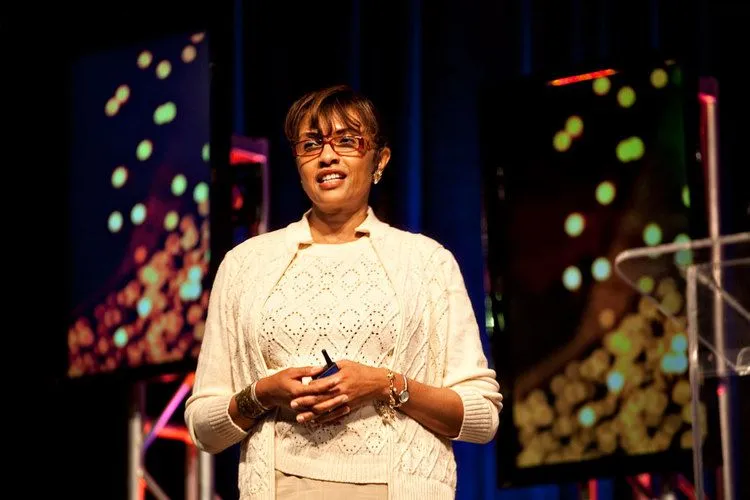 A graduate of The Ohio State University (B.S. Occupational Therapy) and Wright State University (Psy.D. Clinical Psychology -School of Professional Psychology), Dr. Brooks is a member of the American Psychological Association, the National Board of Health Service Providers and other professional organizations. She is the proud mother of three adult children and one grandchild. Her husband, Durado D. Brooks, MD, MPH, is a physician executive who specializes in cancer prevention.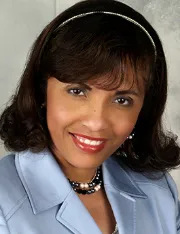 Dr. Yolanda Bruce Brooks